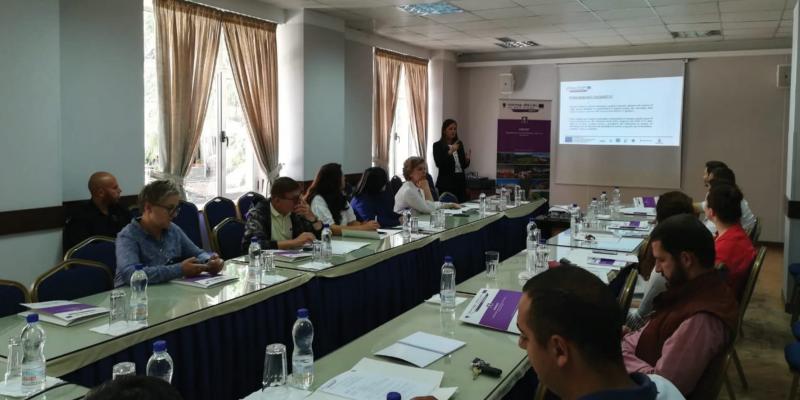 PRESS RELEASE - Ministry of Culture of Albania- Round table on 11-12 June in Gjirokastra,AL
Overview
On June 11 and 12, 2020, "Hamlet" landed in Gjirokastra. A project that aims to highlight the values of the historic centers of cities, their culture and traditions, which should be turned into an engine of sustainable economic development.
Gjirokastra, a city of extraordinary value, which completes 15 years on the world heritage list, under the protection of UNESCO, was the presentation station of this project.
On this occasion, a round table was held with the participation of local tour operators, organizations and businesses, who should be an active part in the process of identifying the values of their city.
Fortunately, Gjirokastra is not only the city, but also extends to other centers of extraordinary value for our cultural heritage, such as Libohova, Labova of the Cross and Antigonea, which are part of the "Hamlet" project. Therefore, in this roundtable was discussed the countless opportunities that this city offers for tourism, for the spaces it offers for local business, for the promotion of activities related to handicrafts, crafts, passing disappearing crafts, and on the other hand the ways they should be promoted, in order to turn into a beautiful invitation to Gjirokastra, but also to economic well-being for the inhabitants of the areas.
A special role in the promotion of this city should be played by tour operators, who should return to the first messengers of the spread of "news" that beyond the city there are other tourist destinations. Libohova, Labova of the Cross and the Antigone Archaeological Park should be included in their tourist guides, dedicated to the history, faith or antiquity of this place.
Also present on the first day of this seminar was the Minister of Culture, Elva Margariti, who joined this activity with an agreement signed with the Mayor of Gjirokastra, Flamur Golemi. This agreement aims to promote domestic tourism through free visits to museums and archeological sites, depending on the Ministry of Culture. The latter donated to the Municipality of Gjirokastra 5 thousand tickets with zero value, which the Municipality must distribute in private activities related to hotel-tourism.
All farmers in Gjirokastra can benefit from a ticket, which enables these visits, which translates not only into the knowledge of the city of Gjirokastra, but also extends their stay in this city, benefiting more services.
According to Minister Margariti, this initiative, which will be extended to other cities, not without purpose started in Gjirokastra, as a city with an extraordinary tourist potential, which has yet to be discovered.
This activity achieved its goal of bringing together several actors, who have a key role in promoting Albanian cultural tourism not only within the country, but mostly across borders. The roundtable served for the exchange of information on new tourist destinations, the list of monuments or new projects, which will highlight even more the cultural values ​​of Gjirokastra.