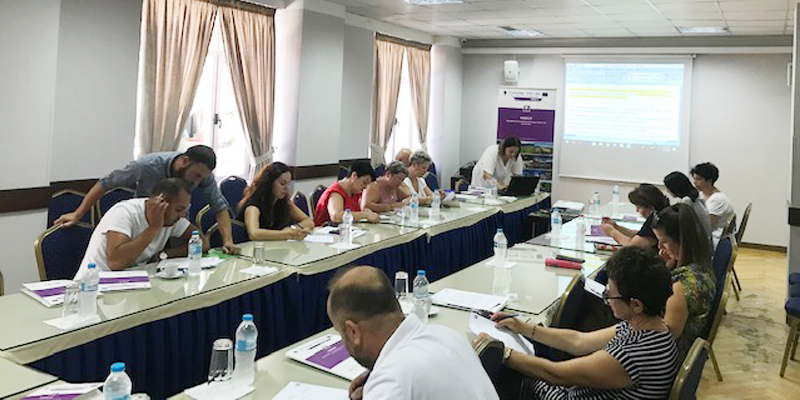 PRESS RELEASE - Ministry of Culture of Albania- Round table held in Gjirokastra, AL on July 24
Overview
PRESS RELEASE - Ministry of Culture of Albania- Round table held in Gjirokastra with the local craft SMEs
July 24th saw the participation of local Craft SMEs in a roundtable organized by the Ministry of Culture of Albania, in the framework of the Implementation of Hamlet Project.
The HAMLET project aims to increase the attractiveness of natural and cultural assets, encouraging the development of sustainable tourism, and comes as a collaboration between Italy, Albania and Montenegro. It addresses the valorisation of historical centres, villages and small towns through the sustainable development of tourist and economic sector, highlighting the environmental and cultural assets of the territories selected.
By developing a common strategy for tourism management, the project aims to boost the cooperation and networking between Italy, Albania and Montenegro, bringing up to the same standard for the quality of products and services offered, reunited under a unique cross-border brand identity, with the aim to identify Adriatic area peculiarities. In the meantime, the introduction of the selected areas in the tourism circles will boost the local economy and will in turn have positive effects on employment and will deter poverty.
The aim of the round table was to discuss the implementation of dedicated services to support local artisanal manufacturing and creating a database of local SMEs related to artisanal manufacturing.
The event was attended by 12 artisans which signed the Memorandum of Understanding for SME-s network creation. This event achieved its goal by increasing craft SME's visibility on program level, and provided specifically designed services in their support.
Focus was given to strengthening the local craft sector, in order to support and highlight the existing activities and preserve the related local cultural heritage, and speeding up cross-border cooperation among SMEs and foster territory economic development through sustainable valorisation of traditional crafts' assets.
The roundtable served to exchange information and to further enhance the Craft SMEs cooperation in certain areas, while avoiding duplication of efforts and overlaps in their respective activities and ensuring the best use of available resources.
The most general recommendations given were related to the cooperation, promotion of activities, trainings for the new generation regarding handicrafts, the creation of a joint product that represents the territory.