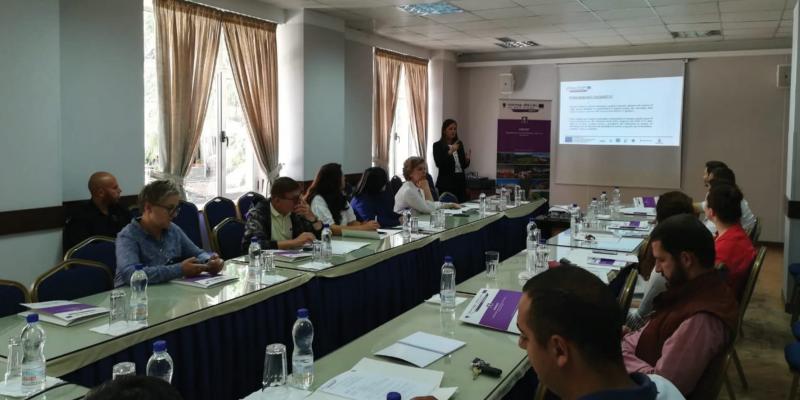 "Hamlets on the move: Round-table with local SMEs on 24 July in Gjirokastra,AL
Overview
The Ministry of Culture of Albania invites all the interested representatives of local SMEs to participate to the round-table, to be held on 24 July 2020, in Cajupi Hotel of Gjirokastra city, in the framework of the implementation HAMLET project. The aim will be presenting the implementation of dedicated services to support local artisanal manufacturing, due to the projects objectives.
The areas of Libohova, Labova e Kryqit and Antigonea are involved in HAMLET project, aiming to increase the attractiveness of natural and cultural assets and encouraging the development of sustainable tourism to improve intelligent economic development of the area.
                                                 HAMLET
Highlighting Artisanal Manufacturing, Culture and Eco Tourism
Topic: Invitation for participation in the Roundtable with SMEs, in the framework of "Hamlet" project
Dear Mr / Mrs,
I am pleased to invite you in the roundtable, organized in the framework of the: "Hamlet" Project, which is funded by Interreg-IPA CBC Italy-Albania-Montenegro. The rountable, which will see the participation of local SMEs, will be held on July 24, 2020, Hotel Cajupi, Gjirokastra, Cerciz Topulli Square.
The HAMLET project is a collaboration between Italy, Albania and Montenegro and includes the villages of the Puglia region, 3 Albanian villages and 5 Montenegrin villages, and aims to increase the attractiveness of natural and cultural assets, encouraging the development of sustainable tourism.
This project addresses the valorization of historical centers, villages and small towns through the sustainable development of tourist and economic sector, highlighting the environmental and cultural assets of the territories selected. By developing a common strategy for tourism management, the project aims to boost the cooperation and networking between Italy, Albania and Montenegro, bringing up to the same standard for the quality of products and services offered, reunited under a unique cross-border brand identity, with the aim to identify Adriatic area peculiarities. In the meantime, the introduction of the selected areas in the tourism circles will boost the local economy and will in turn have positive effects on employment and will deter social poverty.
The main purpose of the round-table is to benefit the local craft SMEs by increasing their visibility on program level, and provide specifically designed services in their support, through the signature of the agreement and cooperation.
The meeting is of high importance for the local SMEs aiming to further enhance their cooperation in certain areas, while avoiding duplication of efforts and overlaps in their respective activities and ensuring the best use of available resources.
Thanking you in advance, I kindly ask you to confirm your participation.