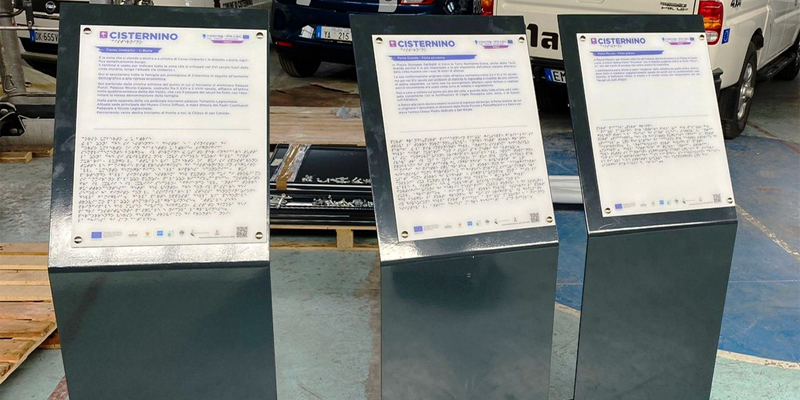 Hamlet Investments on the way, in Puglia Region
Overview
New information signs, tactile signs for visually impaired, tourist road signs and mobile ramps for disabled in the 5 historic villages of Bovino, Vico del Gargano, Cisternino, Galatone and Pulsano. Thanks to the Hamlet project, they have been designed, produced and now finally installed.
In particular, there are 13 information signs in Braille (with tactile writing in relief dedicated to visually impaired people) divided as follows: 2 in Bovino, 3 in Vico del Gargano, 3 in Cisternino, 2 in Pulsano and 3 in Galatone. Furthermore: 23 tourist-cultural signs in Italian and English to facilitate the knowledge of the places and enhance their identity, including 4 in Bovino, 5 in Vico del Gargano, 5 in Cisternino, 4 in Pulsano and 5 in Galatone. Also very useful are the 20 road signs for urban, tourist and territory direction conventionally brown in color (4 for each village). And finally, six mobile ramps for the disabled in wheelchairs useful for overcoming small architectural barriers.
A breath of fresh air and a tangible sign of the strength of cross-border cooperation for the benefit of both visitors and citizens of these splendid Apulian towns.